Article: Male Prostate Orgasm: Guide to Hitting Your Male G Spot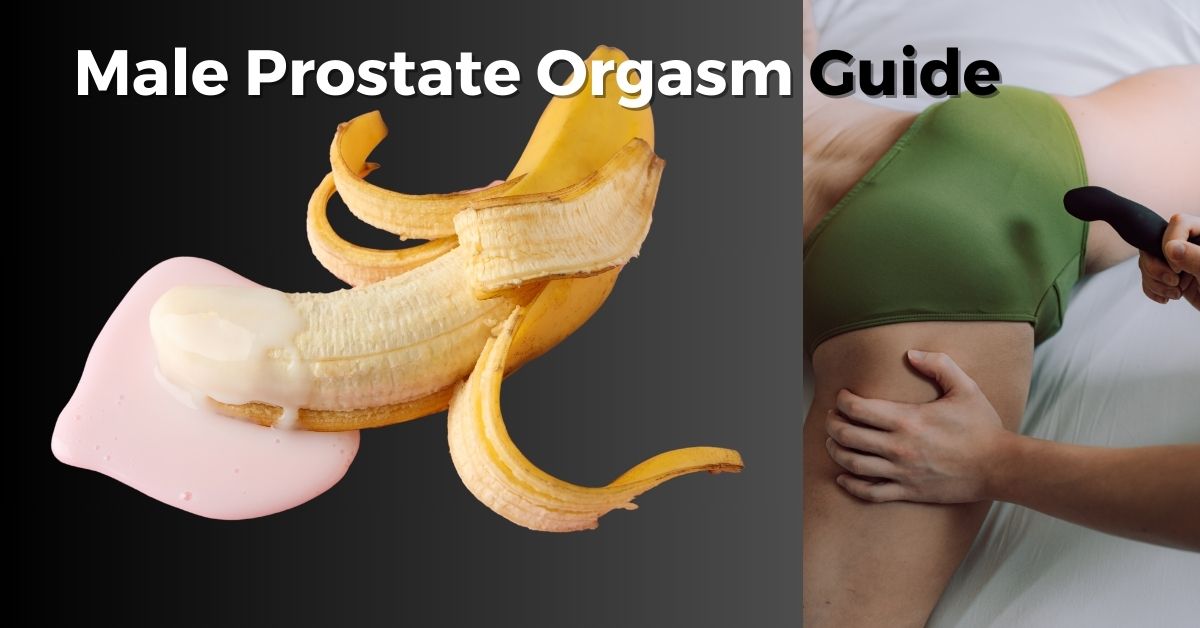 Male Prostate Orgasm: Guide to Hitting Your Male G Spot
News flash - Your penis isn't the only way to achieving the big O.
While one can never go wrong with jacking off or good old intercourse, a prostate orgasm just hits differently, and oftentimes, more intensely.
The prostate, often referred to as the male G spot, is filled with nerve endings that makes it an extremely sensitive and rewarding pleasure point.
Hitting your prostate can culminate in powerful orgasms. But unfortunately, it's not as straight forward as beating your penis.
Like most things in life, rewarding experiences require effort. So while achieving a prostate orgasm isn't quite as easy, it's possible if you hit it from the right angle with the right tools.
Can All Men Achieve A Prostate Orgasm?
"Anyone who has a prostate can potentially have a prostate orgasm" - Dr. Justin Lehmiller, host of the Sex and Psychology Podcast.
Like any novel sexual endeavor, mastering the art of achieving a prostate orgasm demands preparation and practice. While some guys will find it easier to hit their prostate, others may require more effort.
But irreregardless, it's worth the time and effort as you won't know till you've given it your best shot.
Guide To Experiencing A Prostate Orgasm
Everyone may be wired differently. But here are some expert-endorsed tips, techniques, and insights to bring you one step closer to experiencing a toe curling prostate orgasm.
1. Locate Your Prostate
The first step to achieving a prostate orgasm is to first, know where it is.
In short, your prostate is the gland that resides beneath the bladder and in front of the rectum. You should be able to feel it by inserting your fingers or anal toys roughly three inches into your anus.
2. Play With Yourself
The best way to learn about your body is through masturbation. This is because you have a direct feedback loop, thereby allowing you to really know where your p-spot is.
While you can certainly rely on your fingers, a more effective and pleasurable way would be to use a sex toy. There are several options available.
Prostate Massagers: These vibrating anal toys are specifically designed to stimulate your P-spot.
Recommendation: PleasureWave
Meticulously designed to hit your elusive p-spot, the PleasureWave offers an impressive selection of 10 mind-blowing vibration modes.
Crafted from premium, body-safe silicone, the PleasureWave ensures maximum comfort during your pleasure sessions.
Browse Prostate Massagers here.
 Dildos: Unlike a real penis, a dildo is always hard and ready to please.
Recommendation: RealFlex Pro
Masturbation is all about imagination and the lifelike appearance of the RealFlex pro makes it that much easier.
Meticulously crafted to look and feel like the real deal, the RealFlex Pro grants you the freedom to pose it in any desired position, allowing you to hit your prostate so much easier.
Browse Dildos here.
Anal Plugs: Designed for anal play, they tend to be easier to insert up your bum.
Recommendation: Tapered Temptation
This stainless steel anal plug boasts an expertly crafted ridged surface and a carefully tapered tip, facilitating an effortless insertion process.
With 10 vibration modes, you can easily command this quality anal toy with a remote control.
Browse Anal Plugs here.
Regardless of which toy you opt for, remember to clean your anus thoroughly and use lots of lubricant.
3. Enjoy The Process
The most important part of this entire process is to enjoy it!
An orgasm is just as psychological as it is biological. So don't put too much pressure on yourself to hit the big O.
Set aside some quality time to get to know your prostate and you may just be rewarded with the best orgasm of your life.